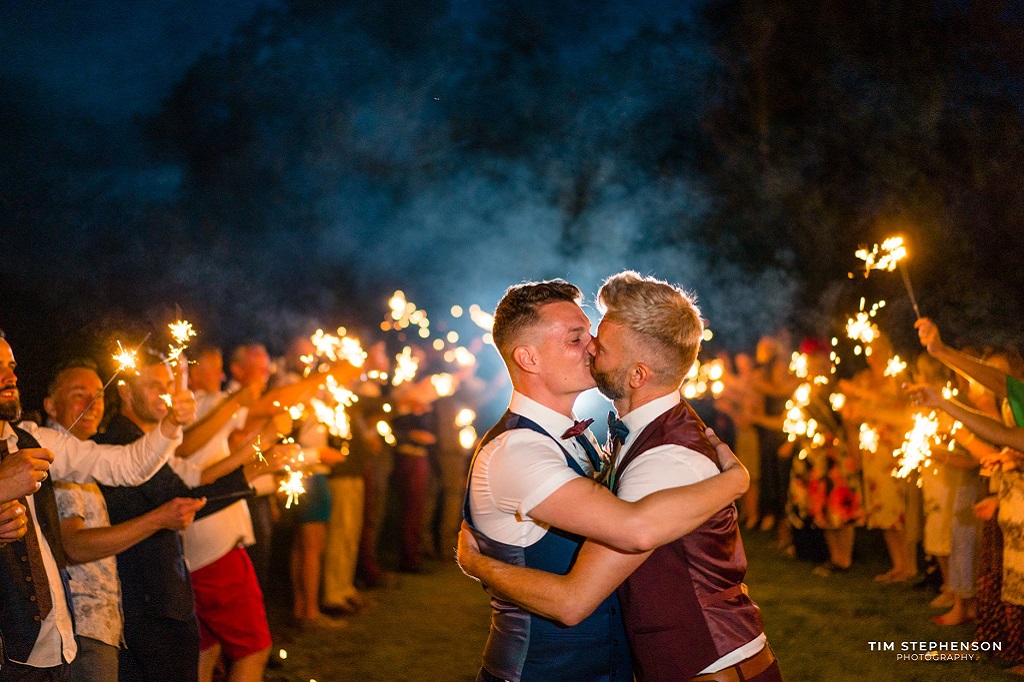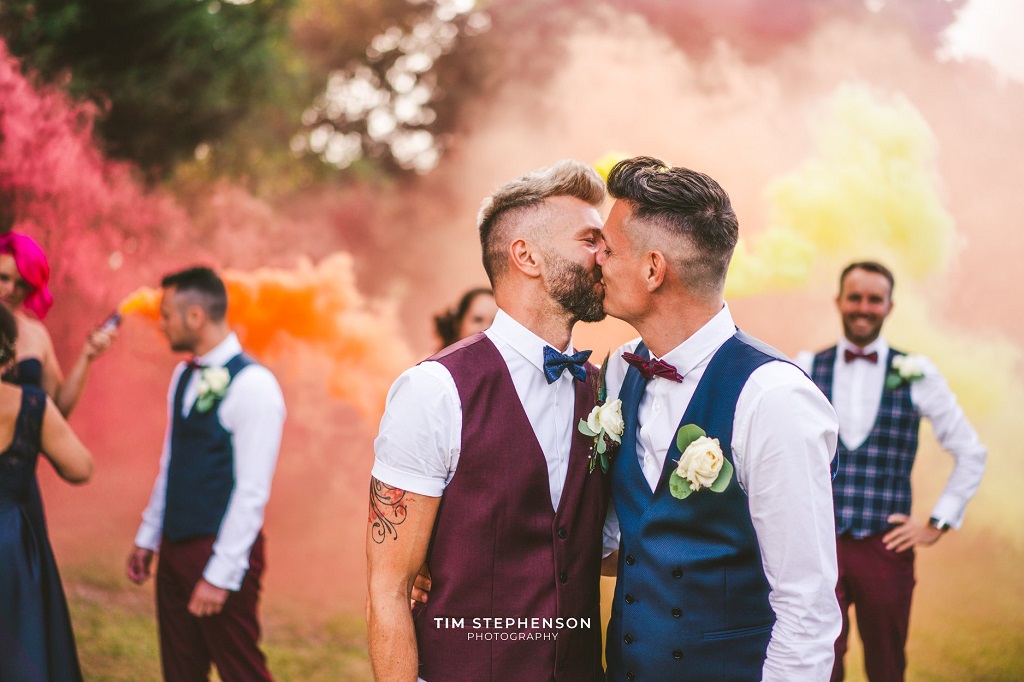 After 18 months of planning, it was finally time for Martyn and Liam to tie the knot in Coronation Barn and although the nerves began to kick in, we knew these two just couldn't wait!
Martyn prepared in the Cartshed Lodge with his girls and Liam in Southwood House with the boys (and Jo!).  There was plenty of Prosecco flowing and lots of fun and laughter from both houses – it really was set to be a great day!
As guests took their seats in the barn, the girls and Groomsmen led the way down the aisle to a classical version of 'Can't help falling in love' – only being upstaged by the adorable Henry, our couples' gorgeous French bulldog!  Liam made his way down the aisle with his best woman Jo by his side followed by Martin and his best woman Kerry – it really was one of the most beautiful ceremonies that we have ever seen!
With the new Mr and Mr Payne formally announced (cue the whoops and cheers!) guests made their way round onto the terrace to enjoy a drink in the sunshine.  Tim Stevenson and Mike Savory rounded everyone up for that all important confetti shot!  Martyn has been busy growing flowers in his garden which had been dried and his Mum had presented it in petite organza bags for each guests – such a lovely personal touch 😊.
Martyn is a very keen gardener, as we know, so each table was named after a different type of his favourite flowers.  A KWF silver candelabra adorned each dining table with a floral wreath in each bloom to act as the centrepiece and table name too.
Drew kindly asked guests to make their way into the barn, where they found their seats using KWF's rustic step ladder displaying jars of flowers showing guests which table they would be seated on.  Such a lovely idea 😊.
The speeches were very emotional with kind toasts to those not able to be here and many congratulations to our newlyweds!  Martyn surprised Liam with a personal wedding video message from Christina Bianco, which he absolutely loved, good work Martyn! 😊
Guests were treated to a tasty three course meal – our table shared mezze boards filled with Mediterranean treats (which went down a treat!), table carved smoked gammon with a selection of breads and Chef's salads followed by butterscotch mousse, candied popcorn, honeycomb and chocolate shavings for those with a sweet tooth.
After a few group photos in the grounds, our Grooms cut their wedding cake as guests gathered to take plenty of pictures. Family friend, Jill, made a beautiful four-tier semi-naked cake with salted caramel, chocolate, lemon and carrot tiers – delicious!
Everybody made their way back onto the terrace to enjoy the last of the sunshine and a quick go on our giant inflatable assault course.  @KWF's festoon lighting lit the terrace into the evening as our Chef's served our sausage sizzle, potato station and the ultimate sweet fix from under the barbecue lodge – what a feast!!
As everybody said throughout the day, it's worth waiting for love when you know that you will find the person who is perfect for you!  We have loved every minute with you guys and can see that you make each other so truly happy x x
Photo credit:  Tim Stephenson Photography
Film: Mike Savory Wedding Films (Video: https://www.youtube.com/watch?v=IiDsgoCxh0U)